NSW STATE ROUTE 17
Decomissioned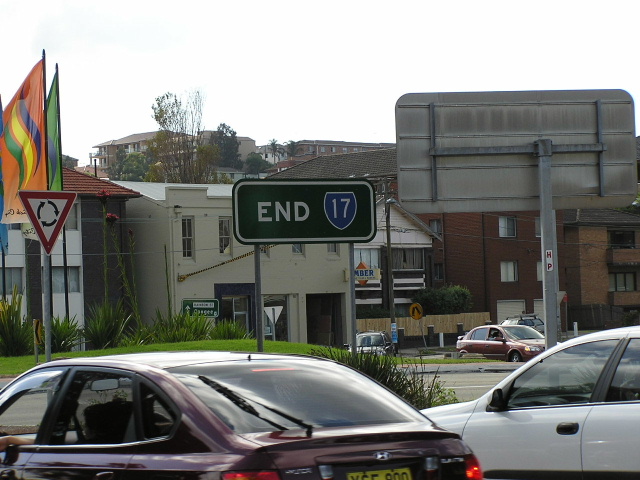 Extremely rare "END SR17" sign, found at the Kingsford Nine-Ways roundabout. April 2004.
Lifespan: 1974-1998 (24 years)
Length: 5km
Eastern Terminus: Nine Ways, Kingsford (intersection of Anzac Pde, Bunnerong Rd, Gardeners Rd & Rainbow St)
Western Terminus: Princes Hwy & Mary St, St Peters
Route taken: Gardeners Rd, Kent Rd, Ricketty St, Canal Rd
Focal Points: Kingsford, Sydenham
RTA Internal Classification: Main Road 183
Route Overview:
State Route 17 was an inner-south east-west circumferential state route, skirting the industrial areas of Mascot and St Peters. Being only 5km long, perhaps the RTA didn't see the use in keeping it during a shake-up of Sydney state routes in the late 1990's and it was subsequently decomissioned in 1998. SR17 formerly connected National Route 1 (Princes Hwy, later SR66) with SR70 (Anzac Pde/Bunnerong Rd) but as of July 2004, both those routes were decomissioned and the former SR17 no longer meets any routes.
Gardeners Rd is a 4 and 6 lane divided carriageway route but as you head further west, the route gets narrower, culminating in a narrow 4-lane bridge across Alexandria Canal, dating back to 1937. All traces of SR17 have now been removed, although SR17 shields, including a rare END 17 sign lasted until July 2004 at Nine-Ways. The final SR17 was coverplated in 2008. Blank coverplates still litter signage along the route.
Notable events in the history of SR17:
May 1937 - Alexandria Canal Bridge
1974 - Proclaimed SR17
1998 - SR17 decomissioned
June 2004 - Last SR17 signs removed from Nine-Ways
SR17 north-western extension?
In the late 1980's and early 1990's a SR17 shield existed on Crystal Street at Petersham, hinting that SR17 may once have gone further than any of us know. However the shield seems to be an anomaly with no others at the same intersection. Also found in the same time frame were two ID signs at the intersection of Lilyfield Rd & James St & Mary St at Lilyfield, which have blank coverplates covering what is suspected to be a route number. Whether it is SR17 underneath, we will never know but it seems the only semi-logical answer. According to the DMR's 'Schedule of descriptions of State Routes' as at 1st June 1982, the description of SR17 is as such; "From the junction of Main Road Nos. 171 and 183 at Kingsford, then via Main Road No. 183 to the junction with State Highway No. 1 at St Peters, and with a possible future extension." This last phrase gives the idea that SR17 may indeed have been extended to Petersham or even Rozelle.
Photos of State Route 17

Bunnerong Rd northbound approaching SR17's former eastern terminus at Kingsford. Photo taken April 2004.

Anzac Parade southboudn approaching Nine-Ways. Photo taken April 2004.

Rainbow St westbound approaching Kingsford Nine-Ways. Note how one SR70 shield (above "City") has been covered, but not the other two shields. Oct 2006.

Anzac Pde northbound. Photo taken April 2004.

Westbound from the roundabout approaching Bunnerong Rd & Gardeners Rd intersection. Photo taken April 2004.

ID signs at Nine-ways. Photo taken April 2004.

More ID signs at Nine-ways. Photo taken April 2004.

Elusive 'END 17' sign at Nine-ways. Photo taken April 2004.

Gardeners Rd westboudn from Nine-ways. Photo taken April 2004.

Botany Rd southbound AD sign showing typical coverplate job over SR17. Photo taken May 2004.

Very old sign southbound on Botany Rd, dating back to the 1960's. This 1989 photo shows the sign in a very deteriorated condition and for those who can't read it, it says: Straight: Btany/Cronulla, Left: Kingsford, Right: Airport/Sydenham.

Eastbound on SR17 at the same intersection, same day in 1989. This time the sign says; Straight: Kingsford, Right: Botany, Left: City.

Looking west along Gardeners Rd from Botany Rd, Mascot. Photo taken May 2004.

Eastbound on Ricketty St approaching Kent Rd. Photo taken May 2004.

Looking east on Ricketty St from Alexandria Canal Bridge. Photo taken May 2004.

State Route 17 shield on Crystal St, Petersham. This sign has since been removed and there is no trace of any other SR17 shields in the vicinity. Photo taken c.1991.

ID sign on Lilyfield Rd at James St/Mary St, Lilyfield showing blank coverplate over an unkown route number - possibly SR17? Photo taken 1994.

James St ID sign on Lilyfield Rd. Note the blank coverplate on this sign too. Photo taken May 2004.