State Route 131
Speers Point - Warners Bay - Belmont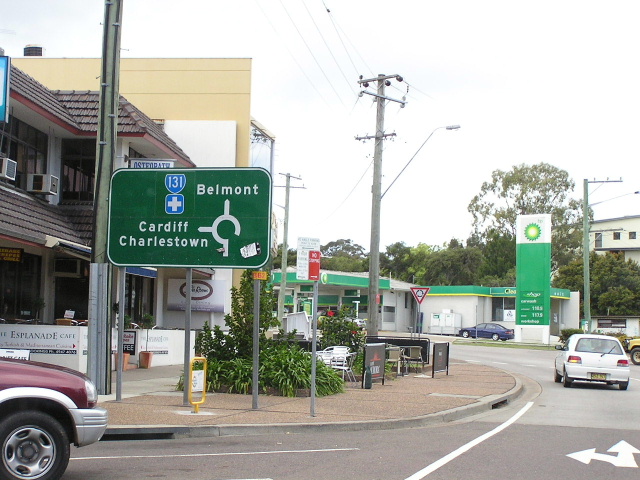 AD sign at the intersection of The Esplanade & King St, Warners Bay. Oct 2004.
In 2013, RMS will be implementing a new alpha-numeric route numbering system. For more information, visit the

RMS Website

.

Forthcoming alpha-numeric route numbers:

(Speers Point to Warners Bay section)

(Warners Bay to Belmont section)
Length: 12km
Eastern Terminus: Pacific Highway & Macquarie St, Belmont
Western Terminus: Five Islands Rd & TC Frith Ave & The Esplanade, Speers Point
Route taken: Macquarie St, Brooks Pde, Ross St, Lewers St, Croudace Bay Rd, Macquarie Dr, Bareki Rd, The Esplanade
Focal Points: Belmont, Warners Bay, Boolaroo
RTA Internal Classification: Main Road 527 (Belmont-Warners Bay), Main Road 674 (Warners Bay-Speers Point)
Route Overview:
State Route 131 is a short east-west state route that skirts the northern shore of Lake Macquarie. The route was first introduced in 1974 and extended all the way north to Shortland via what is now SR133 and Main Rd through Boolaroo. DMR maps show a proposed truncation of SR131 dated Jan 1977, in preparation for the extension of the Five Islands Deviation to connect 2nd Street with Cockle Creek Railway Bridge.
The route is mostly two-lane undivided but has a short four lane section between Main Rd, Speers Pt and Warners Bay Rd, Warners Bay. Not much traffic uses the route from end to end, a large amount turns north into King St to access Cardiff via Macquarie Rd. I would like to see SR131 re-aligned to meet SR128 at Cardiff via Macquarie Rd and this may happen under the alpha-numeric route marking. The western end wont miss out, however, as Hillsborough Rd will receieve a route marker which will most likely continue west to meet SR133.
Notable events in the history of SR131:
1974 - Route introduced, extending north from Speers Point via Boolaroo and the current route of SR133 to Sandgate
Feb 1977 - Route truncated at Speers Point - The Esplanade opened to traffic between Main Rd & SR133
Photos of State Route 131

Rare "END" sign approaching the Pacific Highway, Belmont. Dec 2003.

The first distance sign heading north-west from Belmont. Oct 2004.

New signage northbound at Warners Bay Road. Oct 2005.

Double chevron ID sign at the intersection with Warners Bay Rd, Warners Bay. Lake Macquarie is in the background. Oct 2004.

Headign south-east towards Warners Bay Rd. Oct 2004.

1998 photo showing black AD sign and King St prior to it upgrade.

Looking east through Speers Point. Oct 2004.

SR131-less fingerboard sign at the intersection with Main Road, Speers Point. Oct 2004.

The first distance sign eastbound on SR131. Oct 2004.

Looking west to the end of SR131 at SR133 (Five Islands Rd/TC Frith Ave). Oct 2004.

Northbound on SR133 approaching SR131. Oct 2004.

Southbound on SR133 approaching SR131. Oct 2004.
Photos of the former alignment of SR131 from Speers Point to Shortland (1974-77)

Looking south on Main Road, Boolaroo. Oct 2004.

Scan of 1984 UBD Newcastle Street Directory showing SR131 on Lake Rd near Wallsend, although at the time of publication this street directory was incorrect as SR133 had been extended north.
Last updated 12 December 2012
© Ozroads 2003-2012.