PACIFIC HIGHWAY
Byron Bay/Mullumbimby old alignment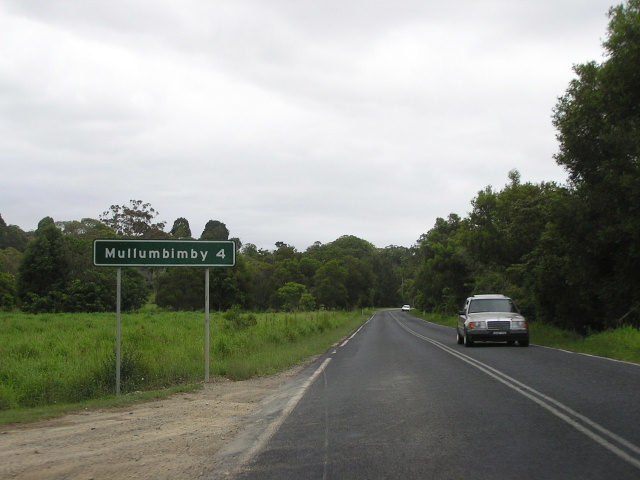 Heading northwest along Mullumbimby Rd from Gulgan Rd (Old Pacific Hwy). Nov 2005.
The Pacific Highway between Bangalow and Billinudgel - in the vicinity of Byron Bay and Mullumbimby - is greatly different today to what it was in 1928. This page will explain the history of the realignments in this section.
On 7 August 1928 the Main Roads Board proclaimed State Highway No. 10 and named it North Coast Highway. This named was changed to Pacific Highway on 29 May 1931. The original declared route of the Pacific Highway in this area, saw it turn east from Bangalow, along what is now Byron Bay Road, Bangalow Rd, Old Bangalow Rd, Bangalow Rd, Browning St, Johnson St, Shirley St and Ewingsdale Rd.
This was clearly a circuituous route and on 29 May 1931, the same day on which the Pacific Highway was name, its rotue was altered to follow the direct route between Bangalow and Ewingsdale, via the now notorious St Helena Hill. This shortened the Pacific Highway by 10km.
North of Ewingsdale, the 1928 alignment followed today's alignment closely, before branching from Gulgan Road (Pacific Highway until 2001), along Mullumbimby Rd to Mullumbimby. Passing through Mullumbimby along Argyle St, Station St, Burringbar St, Dalley St, Tincogan St, Brunswick Terrace and a bridge over the Brunswick River, the Pacific Highway thence followed today's Coolamon Scenic Drive to rejoin the current highway alignment just south of Billinudgel.
The Department of Main Roads' September 1929 edition of Main Roads notes that "the erection of a reinforced concrete bridge over the Brunswick River, near Mullumbimby, on the North Coast Highway (State Highway No. 10), has been commenced. The condition of the existing timber structure has caused concern amongst travellers for some time past."
Followin completion of that bridge, the Department of Main Roads delayed work on this section of the highway (whilst reconstructing the highway between Billinudgel and Murwillumbah during the 1930s) until after World War 2 when, on 9 March 1945, the Pacific Highway was re-routed via Brunswick Heads.