NATIONAL ROUTE 1 - Former Alignments
Doyalson to Hexham via Pacific Highway (1955-1988)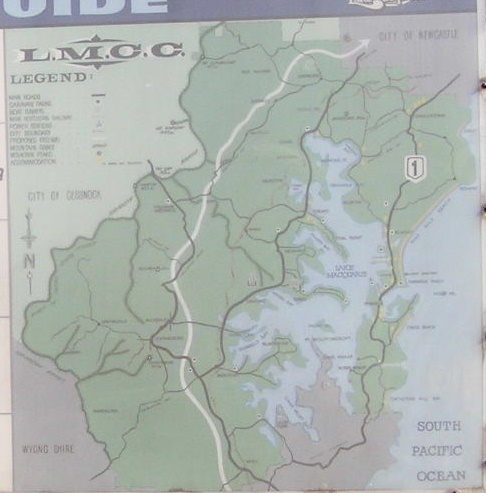 A map of Lake Macquarie Council, showing National Route 1 along the Pacific Hwy with the proposed freeway alignment in white. Photo taken near the corner of Wyee and Hue Hue Roads, Wyee, Oct 2004.
Lifespan: 1955-1988 (33 years)
Length: 66km - (Brunker Rd alignment was 2km shorter)
Northern Terminus: Pacific Highway & New England Highway, Hexham
Southern Terminus: Pacific Hwy & Motorway Link, Doyalson
Route taken: Pacific Highway (via Brunker Rd from 1955-59)
RTA Internal Classification: State Highway 10
From the beginning of NR1's existance in 1955, it traversed the Pacific Highway through Newcastle. Originally the route of the Pacific Highway between Newcastle West and Adamstown Heights was via what is now named Tudor St, Belford St and Brunker Rd through Hamilton, Broadmeadow and Adamstown. In 1959 the new route was constructed between Adamstown Heights and Merewether and Stewart Ave widened to accommodate the new traffic. Since then the route of Pacific Hwy and NR1 has remained static until the opening of the Sydney-Newcastle Freeway to Freemans Drive in March 1988. It was at this time that National Route 1 was decomissioned through Newcastle, being replaced with the interim National Highway route through Mulbring and Kurri Kurri. There are no remnants of NR1 on this old alignment today, however, I managed to acquire some photos of NR1 signage taken around 1988 in preparation for the signposting of State Route 111. Also included below are some photos of the 1928-1959 alignment of Pacific Hwy, which from 1955-1959 was also NR1, through Adamstown.
Other former alignments of the Pacific Hwy along this route include: Flowers Dr at Catherine Hill Bay (rest of highway route resumed for mining); Old Belmont Rd at North Belmont and Algona Rd/Dudly Rd at Gateshead Hill. Since no details are available on the construction of bypasses around the latter two old alignments I have not included them in the list of notable events.
Photos of National Route 1 on its former alignment between Doyalson and Hexham (1955-1988)

Looking west on King St, Newcastle West, approaching the Pacific Highway. 1988.

ID sign at the intersection of Pacific Highway & King St & Parry St, Newcastle West. 1988.

Opposite side of the same sign. 1988.

Northbound on the Pacific Highway approaching Hunter St, Newcastle West. 1988.

1950's AD sign eastbound on Pacific Hwy approaching the Hunter St & Stewart Ave intersection, Newcastle West. This sign probably pre-dates the National Route marking system. 1988.

1950's ID sign at the same intersection. The sign reads "Pacific Hwy; Sydney; NR1" but is badly faded. 1988.

Another 1950's ID sign at the same intersection, this time northbound. 1988.

Newer 1970's or 80's AD sign heading north-west on the Pacific Hwy approaching Tudor Street, Newcastle West. This sign was only replaced a matter of 2 years ago. 1988.

Same intersection, this time heading south-east. 1988.

Eastbound on Tudor Street, a faded 1970's ID sign. 1988.

Rare 1970's trailblazer heading eastbound on Pacific Hwy in Newcastle West. 1988.
Photos of the 1928-1959 alignment of Pacific Highway through Adamstown and Broadmeadow

Looking north along Brunker Rd into Adamstown. Oct 2004.

Looking north along Brunker Rd at Glebe Rd, Adamstown. Oct 2004.

Looking south on Brunker Rd in Broadmeadow. Oct 2004.
Photos of 1928-1992 alignment of Pacific Hwy at Swansea Bends

Overgrown section of the Swansea Bends near Scenic Dr, Caves Beach. July 2003.

Looking south to where the old highway has been closed off on the west side of the new highway. Oct 2004.
Back to National Route 1 (NSW)
Back to Pacific Highway (NSW)
Back to NSW State Route 111